IOT Freeform Designer (LDS). A revolution
ECP: Eyecare Professional
LDS: Lens Design Software
LMS: Lab Management System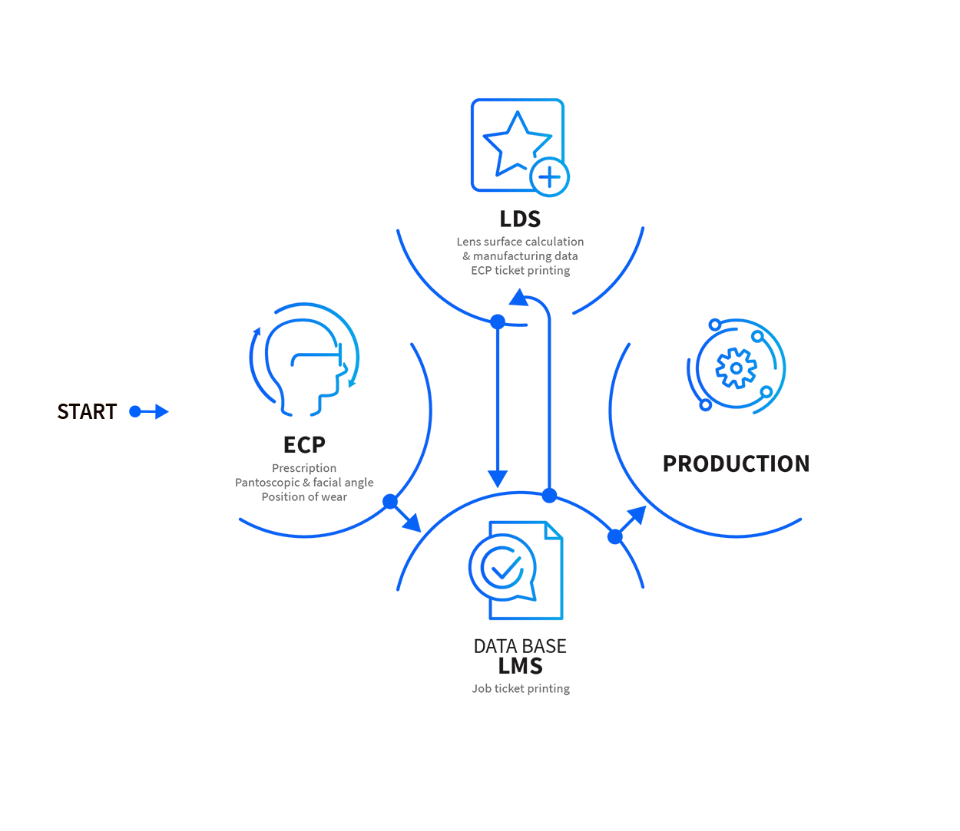 Free-form: the state-of-the-art technology for calculating, designing and cutting customized ophthalmic lenses while minimizing oblique aberrations.
We develop all our technologies and calculations utilizing the lens design software (LDS) IOT Freeform Designer. Its powerful algorithms make it possible to calculate lenses in seconds, adapting them to the individual data of each wearer.

When run, it performs the calculations on the lab's own computers. This avoids using remote systems that could slow down the lens calculation, which results in an efficient solution capable of performing each of the lab's jobs in near-real-time. Its calculations generate all the files needed to create the surfaces you will manufacture in your laboratory.

Installation is straightforward and can be done in less than an hour, even remotely. For final production, IOT Freeform Designer integrates with the Lab Management System (LMS) that manages output in the laboratory. Additionally, our IOT Freeform Designer is compatible with most Lab Management Systems currently on the market.

Throughout the entire process, our technical staff is at your side. Their assistance and consultancy work will allow you to achieve the best results and adapt them to your requirements. The first thing we do is study the different configuration options depending on the characteristics of your lab. For instance, we adjust the manufacturing parameters to your configuration and the kind of equipment you use. The calculation parameters can be edited and customized according to your needs.
IOT Freeform Designer is exceptionally flexible, adjusting to the characteristics of your lab in terms of production, calculation, and number of lenses.

An additional module allows you to manage your lab's workload and process several jobs simultaneously. IOT Freeform Designer can be installed on multiple servers and connected to this module. This will take care of the calculations on the different servers, thus multiplying the calculation capacity of your lab.

This software can calculate complex surfaces such as bifocals, lenticulars, etc. and requires a correct integration in the laboratory. Depending on the characteristics of the equipment and the needs of the product, its configuration can vary significantly. After analyzing your lab's needs, our technical staff will help you configure these products to best suit your requirements, thus finding efficient production solutions.

IOT Freeform Designer is always evolving. We are constantly adding new functionalities, calculation technologies, and process efficiency improvements. These are available in the latest versions. The inclusion of new products requires a simple and fast update process; in less than 15 minutes, your lab will have the latest version, including the latest designs.

On top of that, IOT Freeform Designer adapts to the latest security requirements in software development and Internet communications.
Our technologies
IOT Intelligence

Camber Technology
By combining complex curvatures on both lens surfaces, this technology provides excellent vision correction. It is specially designed to increase reading zones and improve peripheral vision.
View more

Steady Methodology
This methodology, patented by IOT, is a technological breakthrough in digital lenses. It provides a strict control of average power in the far distance vision zone and virtually eliminates peripheral spherical power error.
View more

IOT Digital Ray-Path 2
Oblique aberrations are minimized more effectively than ever by incorporating the intelligent use of wearers' accommodation into traditional calculations.

View more

Metodologia Steady Plus
Steady Plus allows for more sophisticated control of the medium power distribution to improve performance for midrange and near vision. to achieve a perfectly symmetrical and smooth power distribution.
View more