Endless Sport Progressive
Personalized free-form progressive lens for maximum performance during outdoor activities.
For sunglass lenses and outdoor sports, a wearer's top priority is to obtain clear vision at all times with the broadest possible range for distance vision.
Endless Sport Progressive lenses offer virtually panoramic vision. No other general progressive lenses from IOT have ever achieved such a wide visual field.
IOT Digital Ray-Path 2 calculation technology ensures maximum visual performance regardless of prescription, and the selected frame. Focus is always precise and comfortable, even with very wrapped frames.
For active people who want impeccable distance vision.
Category

Use: Special
Product: Personalized
Frequency of use: Occasional
Ideal wearer

Those looking for unsurpassed visual quality.
Wearers who need a reliable solution for dynamic activities.
Wearers who choose wrapped frames.
Sunglass wearers.
Patients with low to medium add powers and limited near vision needs.
Wearers who are looking for superior vision for outdoor activities.
Technologies


Compatibility

Material & blank provider: Endless Sport Progressive lenses are compatible with any blank provider and lens index.
Coatings: Endless Sport Progressive lenses are compatible with any coatings you run at your lab.
Machinery & LMS​: Endless Sport Progressive lenses are compatible with almost any machinery supplier and LMS.
Distance fields adapted to active lifestyles
Endless Sport Progressive lenses allow wearers to have virtually panoramic distance vision. Thanks to its unique configuration, the astigmatism lobes are moved away from the primary gaze position. The wearer enjoys a clear 180° field of view.

Their architecture maintains an effective field of vision for viewing near objects providing optimal visual comfort at all times.

High definition for wrapped frames
When the patient needs prescription lenses for wrapped sunglasses or sport frames, it is essential that the final lenses are optimized based on the frame parameters to correctly compensate for oblique aberrations.
Endless Sport Progressive lenses incorporate advanced IOT Digital Ray-Path 2 calculation technology to virtually eliminate oblique aberrations. This provides patients with clear vision in all useful areas of the lens, regardless of the curvature of their chosen frame.
Benefits
Maximum distance vision.

Unmatched dynamic vision with comfortable and precise focus at any distance.

Optimized fields of view, even with highly wrapped frames and higher prescriptions.

Near elimination of peripheral blur.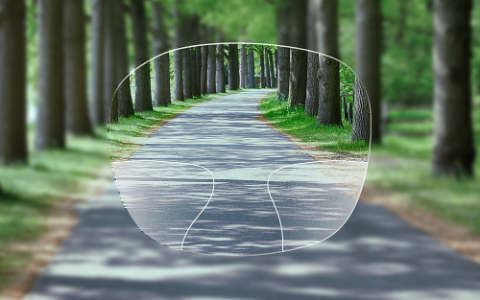 Personalization
The design is further enhanced, when desired, by a complete set of individualization parameters that take into consideration the unique attributes of the frame and the preferences of the wearer. If no parameters are provided, IOT Digital Ray-Path 2 will utilize default values.
Compensated power
Lens power differs from prescribed power. The design is calculated, point by point, to ensure wearers perceive the proper power when looking through their lenses at every distance and direction of gaze, including near distances for viewing electronic devices.
Optimized for accommodative object space
IOT Digital Ray-Path 2 incorporates the intelligent use of the wearer's accommodation into the traditional calculations for reducing oblique aberrations, resulting in a superior personalized lens. Oblique aberrations are minimized more effectively than ever before.
Consistency
The perceived power distribution remains stable, regardless of the prescription or base curve. This is especially beneficial for high prescriptions and large or wrapped frames.
Infinite design configuration options
Create a unique product suited to your market needs.
Endless Sport Progressive lenses allow for countless configurations, providing the opportunity to differentiate for unique market needs. No other lens design portfolio is as modular, flexible, and versatile as IOT's.
Ready-to-start
Discover our product portfolio

Presbyopia solutions
Personalized free-form progressive lens. Designed with the most revolutionary IOT technologies and provides impeccable visual quality.

Innovation as a Service
Explore different working models

IOT Innovation Consulting
Innovation transforms markets and allows us to move forward. It also requires some level of risk. The best results are created through cooperation and collaboration.
IOT understands optical innovation. We will use this knowledge to help you identify the imminent technological and scientific advancements that will revolutionize our industry. Through our complete consulting services, we can help you increase the pace of innovation and quickly adapt new solutions to all areas of your business.
This will allow you to implement emerging technologies as new products or services and make innovation part of your overall business strategy.

IOT Custom and Exclusive Solutions
One of the best ways to collaborate on new technology is through a combined research and development project. You contribute your vision, the needs of your customers, and unique market insights. We provide the knowledge, means, and technical capabilities necessary to create a proprietary solution for your business.
Our on-demand innovation model is a powerful way for you to utilize IOT resources to develop your ideas for new free-form lens designs, treatments, and technological solutions. Your ideas, combined with our team of research and development experts, can create groundbreaking innovation.
IOT can help you turn your ideas into real solutions for your business.